Exclusive to iBooks
Great News! From now until November 2, 2014, HQN and iBooks are having a Special Romance sale. My current release A Sword Upon the Rose is only $1.99. Head on over to iBooks today and don't miss out on these great deals.

---
On Sale Now!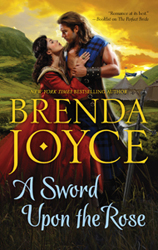 New York Times bestselling author Brenda Joyce takes you back to the Highlands, where the battle for land, liberty and love rages on…
A bastard daughter, Alana was cast away at birth and forgotten by her mighty Comyn family. Raised in solitude by her grandmother, she has remained at a safe distance from the war raging through Scotland. But when a battle comes close to home and she finds herself compelled to save an enemy warrior from death, her own life is thrown into danger.
Renowned for her passionate, emotional and sensual romances, bestselling author Brenda Joyce returns with a new novel set in medieval Scotland
"A Sword Upon the Rose is impossible to put down with the perfect mix of history, romance and intrigue."
—Books For Her
---
The Deadly Series Available Now On Audible!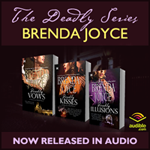 New York City—1902
Welcome to the world of the Francesca Cahill—crime-solver extraordinaire!
An irrepressible heiress and intrepid sleuth, Francesca Cahill is engaged to one of the city's most notorious millionaire bachelors, Calder Hart. But Francesca is far more interested in solving ghastly crimes than in taking tea. Her pursuit of thugs, madmen and murderers takes her from the glittering salons of Fifth Avenue into the dangerous, crime-ridden underbelly of lower Manhattan. And more often than not, the city's powerful Police Commissioner, Rick Bragg, is at her side, because first love never really dies.
Welcome to the truly remarkable world of Francesca Cahill, Calder Hart and Rick Bragg, a world where pride, passions and prejudices always collide…
Click here to listen to audio clips